UPDATES /
june 30, 2016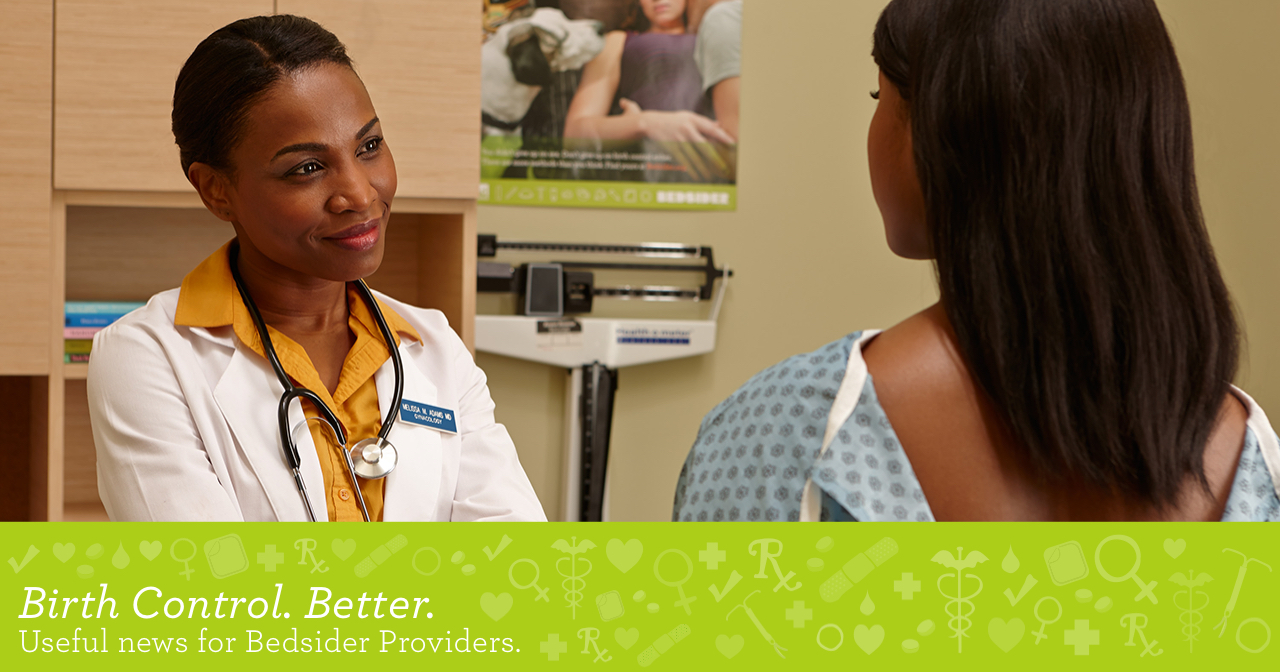 Your Summer Reading List!
Summer is in full swing and we hope you've got some fabulous vacations—or at least a long weekend or two—on the calendar. In case you need something to read by the pool or on a long flight, we've rounded up the latest from Bedsider and Bedsider Providers.
---
By Providers, for Providers
Racism in family planning care
by Andrea Jackson, MD
So many of us providers are in this for the right reasons: we want to be the people who help patients achieve their health and overall life goals. Here are some steps we can take to ensure that patients of color and poor patients achieve true reproductive health equity within our generation.

Your patient has the answer
by Alissa Perrucci, PhD, MPH
We worry that we don't do a skilled enough job working with the patient's ambivalence, we contemplate concepts such as competence, and we worry about doing no harm. We have been known to miss the forest for the trees—to miss the fact that our patient is a person, making her own decision.

Is LARC a silver bullet to end unplanned pregnancy?
by Rana E. Barar, MPH
Some health care providers and policymakers talk about LARC as if it were the only solution we need to the U.S.'s high unintended pregnancy rate. But what do experts think would really happen to national LARC use if all the barriers were removed? A team of researchers at University of California, San Francisco—including me—decided to ask.
---
Best. Clinic. Ever. June 2016.
Unity Health Care of Washington, DC has a network of over 29 clinics throughout the city, including school-based health centers and a mobile outreach van that provides direct services or referrals. Birth control information on-the-go? Count us in. They also offer the full range of methods and annually provide care to over 100,000 residents in the DC metropolitan area!!! The impact Unity has had on its city has not gone unnoticed. In fact, the Council of the District of Columbia declared December 4th, 2015 to be Unity Health Care Day in acknowledgment of the clinic's 30 years of service. A well-deserved honor!

P.S. You can nominate your favorite clinic, health center, or private practice to be featured on Bedsider.

---
Trending on Bedsider: Spotlight on Washington, DC
In honor of our Best Clinic Ever pick, we're looking at DC this month. Here are a few things we know about what Bedsider users (ages 18-35) in the nation's capital were up to from May 29th to June 28th, 2016.
---
New on Bedsider
Can an IUD improve your sex life?
by Jenny Higgins, PhD, MPH
The IUD may bring more to the table than highly effective pregnancy prevention—new evidence suggests that, for many people, IUDs have the potential to improve "sexual well-being."

What to do if you are refused birth control
by Claire Tighe
Unfortunately, refusals happen—and they may even be more common than records show. Here's what your patient can do if they're ever denied birth control or emergency contraception.

Health insurance perks, from A to Z
by Colleen Denny, MD
You may know all about the great preventive services covered by insurance plans under the ACA, but your patient may not. Here's a breakdown of some of the benefits.

Low-effort fertility tracking coming soon: Priya Ring
There are some great apps to help simplify fertility tracking, but they still require you to take your temperature every morning. Now imagine a world where you could insert a ring into your vagina that would take your temperature for you...

When sex hurts—even just a little
by Martha Kempner, MA
Hopefully, people who experience pain while getting it on will wonder why and seek out relief. If sex hurts, there's likely a reason why, and there are multiple things to try to dial down the pain and dial up the pleasure.
---
Snazz up your lab coat (Or your messenger bag. Or your backpack.)
Our Method Explorer buttons are the perfect way to accessorize while subtly demonstrating that you're in the know about Bedsider and birth control. Each button highlights a filter from our method explorer. Do you prevent STIs? There's a button for that. Maybe you get "party ready" when 6:00 pm rolls around, or "most effective" to power through your Monday. There are so many ways to work these buttons, and we're into all of them.



Each pack contains 6 buttons and they're sold in packs of 10. Order some for your office today—and while you're at it, check out the other goodies in our store.

---
Is there a topic you haven't seen us cover on Bedsider Providers but think we should? Let us know by emailing providers@bedsider.org.

Stay cool,
Team Bedsider