UPDATES /
august 03, 2016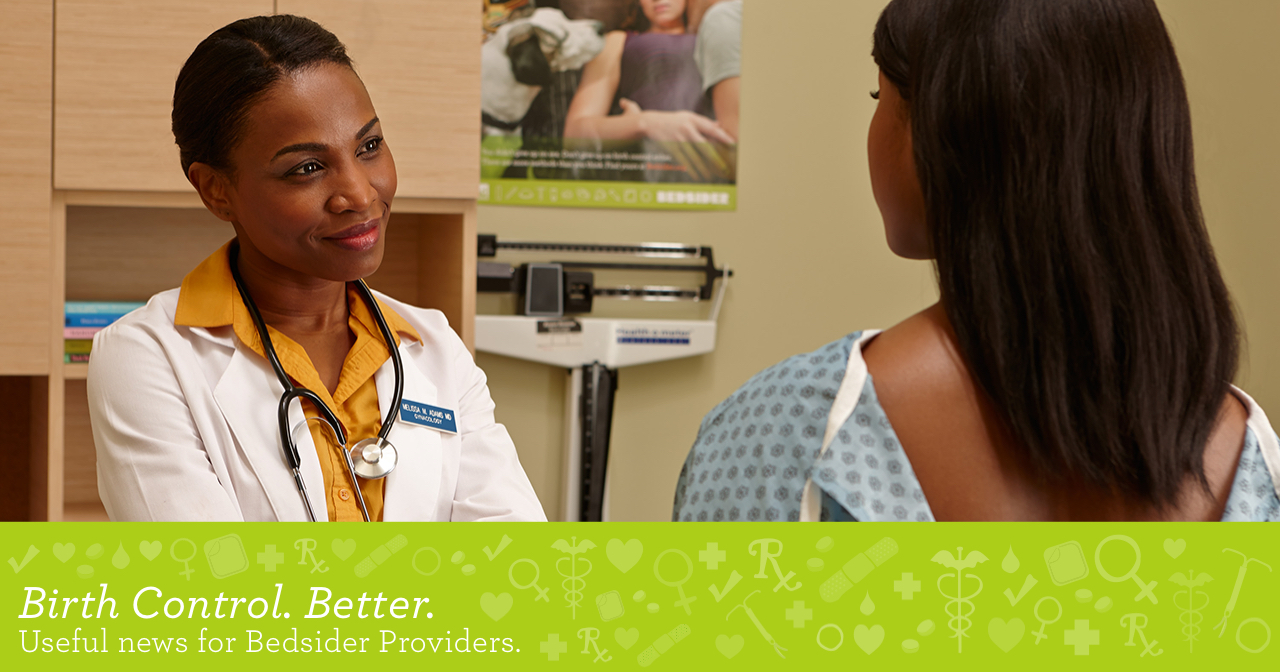 Check Out Our Shiny New App
Big news about our birth control reminders! We've launched a new app to deliver reminders for the pill, the patch, the ring, and the shot more easily and reliably than ever. Now here's the really important part: The app, which is available on iPhone and Android, will be replacing our text and email birth control reminders starting September 1, 2016. (Appointment reminders will still be delivered via text or email.)
You and your patients can see the app and learn more at bedsider.org/reminders_app.
---
New for Providers
STI-status sharing: Online resources for your patients
by Jill Eversole in consultation with Bhupendra Sheoran
When it comes to STIs, of course you want to encourage patients to get tested regularly (and to practice safe sex). But what if testing results in a positive STI diagnosis? You may be able to support your patient not only in getting further testing or treatment as appropriate, but also in notifying current and past partners. Online resources make it easier than ever to let partners know about a positive STI diagnosis, often while providing further information about that STI and where to get tested.
---
New on Bedsider
KTHANXBYE: 5 questions to ask yourself before quitting your birth control
by Claire Tighe
When I got the IUD three years ago, I was in love immediately. Flash forward three years: The IUD honeymoon had come to an end. I went back and forth for months before I finally decided: having the IUD, while logistically and financially convenient, just wasn't worth the discomfort and stress I was experiencing daily. It was time to reevaluate.
Birth control on the horizon: 2016 edition
We love to roll out the red carpet when a new method of birth control becomes available. We've also been known to get excited about birth control innovations that are still in the works. Here's what we see on the horizon from where we're standing in 2016.
---
Zika Toolkit
The Office of Population Affairs (OPA) released a toolkit developed specifically for healthcare providers, "Providing Family Planning Care for Non-Pregnant Women and Men of Reproductive Age in the Context of Zika." It includes lots of helpful information about Zika itself, assessing risk, and counseling patients who could be at risk. Download the toolkit here.
---
Trending on Bedsider: Spotlight on New York
It's bigger than the Big Apple—here's some info about what Bedsider visitors (ages 18-34) from anywhere in New York were up to in July (July 1-31, 2016).
Total number of visits: 368,982

Top 5 cities visiting the site: NYC (237,863 sessions), Rochester (7,765 sessions), Albany (6,929 sessions), Buffalo (5,308 sessions), Ithaca (2,654 sessions)

Top 3 most-viewed pages: 1) Foods that make your vagina happy and healthy (yes, really) (28,750 views); 2) 5 myths about pulling out, busted (24,671 views); 3) A quick guide to skipping periods with birth control (19,363 views)

---
See you on your smartphone
As we were saying above, our birth control reminders are still free and they still feature our popular entertaining content, but now they're more reliable and easier to customize and use. And they're only going to be available through the new app.
Our goal is to migrate all current users to the app by September 1, 2016. If you have any questions about this, please send them our way.
Thanks for your support!
Team Bedsider