UPDATES /
january 18, 2017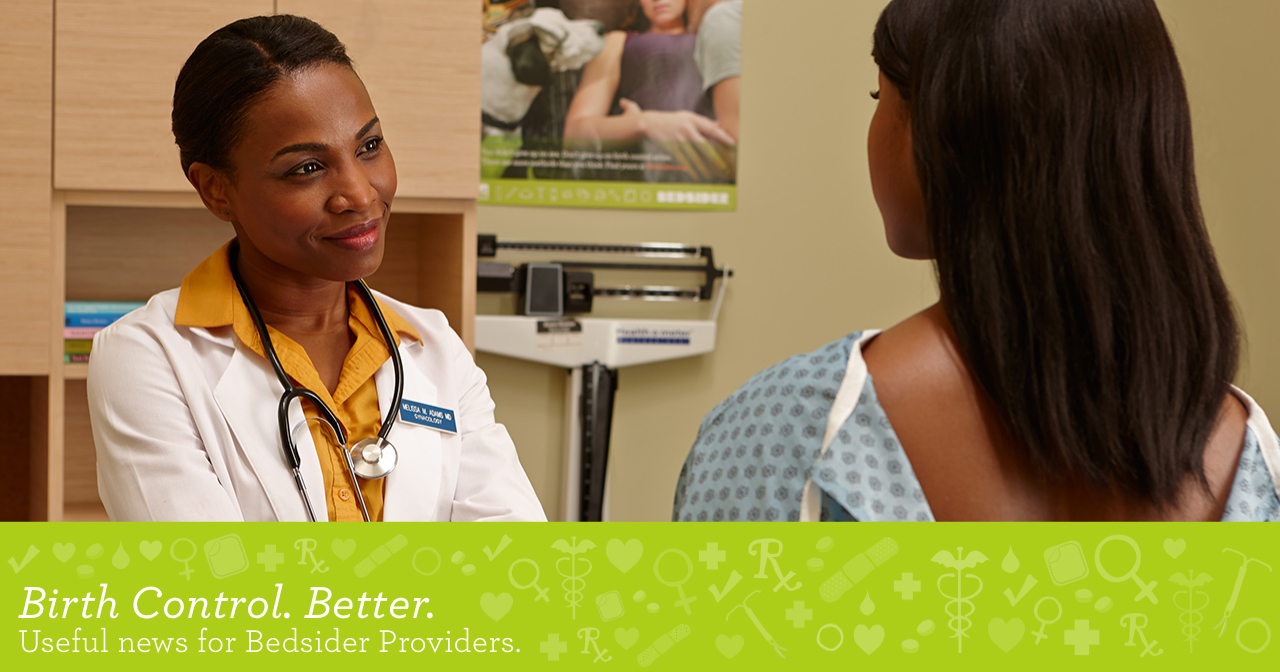 Got ACA stories? We'd like to hear them
It's no secret that we get excited about the many ways the Affordable Care Act (ACA) makes it easier for people to stay on top of their health—and their birth control. Approximately 55 million women benefit from ACA coverage of preventive care, which includes all FDA-approved methods of contraception without co-pays or deductibles.
We want to help make clear why preventive care and the contraceptive coverage provision are so important. That's why we're collecting and amplifying stories from people who have taken advantage of this coverage and those in the field who treat them.
How has the ACA impacted your work as a provider of contraceptive care?
For example, since the ACA went into effect:
Have you seen an increase in appointments for contraceptive care?

Have you found that more patients are opting for low-maintenance, long-acting birth control methods that might have been too expensive previously, such as the IUD and implant?

Have your patients commented on the ease and affordability of their contraceptive care?

Do your patients seem more knowledgeable about—or more interested in exploring—their birth control options?

Do you find that more of your patients are covered by insurance?
Since the future of the ACA has come into question:
Have you noticed any changes, such as patients wanting IUDs while they're still covered or expressing concern about how they will continue to afford their method?

Have you seen appointments drop off, perhaps because people think the contraceptive benefit has already been repealed?
We would love to hear about your experiences and observations in your own words. Please feel free to answer any or all of these questions, or share whatever anecdotes or general impressions you think are relevant!
How your response may be used: We may include your comments in blog posts and other materials but will not attribute them to you in an identifiable way without your specific permission. For example, we might use a quote from you and attribute it to "Jane S., Nurse Practitioner in a clinic setting, Ohio"—but nothing beyond that without your consent. To that end, please be sure to include your role (MD, NP, clinic staffer, etc.), the type of environment you practice in (clinic, hospital, private practice, community health center, college health center, etc.), and the city/state where you work.
Please also note in your response whether you would be interested in talking to the press, should a relevant media opportunity arise. If so, we'll get in touch with you before we ever share your contact info with a reporter.
Please email your responses directly to Amy Kramer, Senior Director of Media Relations for The National Campaign to Prevent Teen and Unplanned Pregnancy, or submit them through The National Campaign's website. (If you submit through the website, make sure to mention in your story that you're a health care provider.)
---
New for Providers
Starting birth control after using 'ella' for EC
by Kelly Cleland, MPA, MPH
Here's what you need to know to help your patients balance risks and uncertainties related to starting hormonal birth control after ella.
---
New on Bedsider
The best and worst of health care: 5 things to keep in mind
by Ashley Canino
We asked our Bedsider U community to share their good, bad, and ugly health care stories. Here's what we learned.
Does hormonal birth control cause depression?
A study found a link between hormonal birth control methods and depression. Here's why interpreting this research is effing complicated.
Are guys big whiners or does hormonal birth control for men actually suck?
A new study about a male birth control shot was recently released, but it's safe to say this method will not be marketed as the first new birth control for guys since the middle ages. Why not? A couple of reasons, but not the ones many of the headlines are emphasizing.
Having a miscarriage: 3 things you should know
by Colleen Denny, MD
As you're wondering why this miscarriage happened or what happens next, here are three very important things to keep in mind.
---
Tell us more about your clinic or practice!
Bedsider's "Where to get it" clinic finder is the most comprehensive database of contraceptive care in the U.S., and you can help make it even better. Please take a moment to fill out this form with details about the services and features offered at your clinic or practice.
And remember to email or submit your ACA stories. We can't wait to read them.
Happy New Year!
Team Bedsider