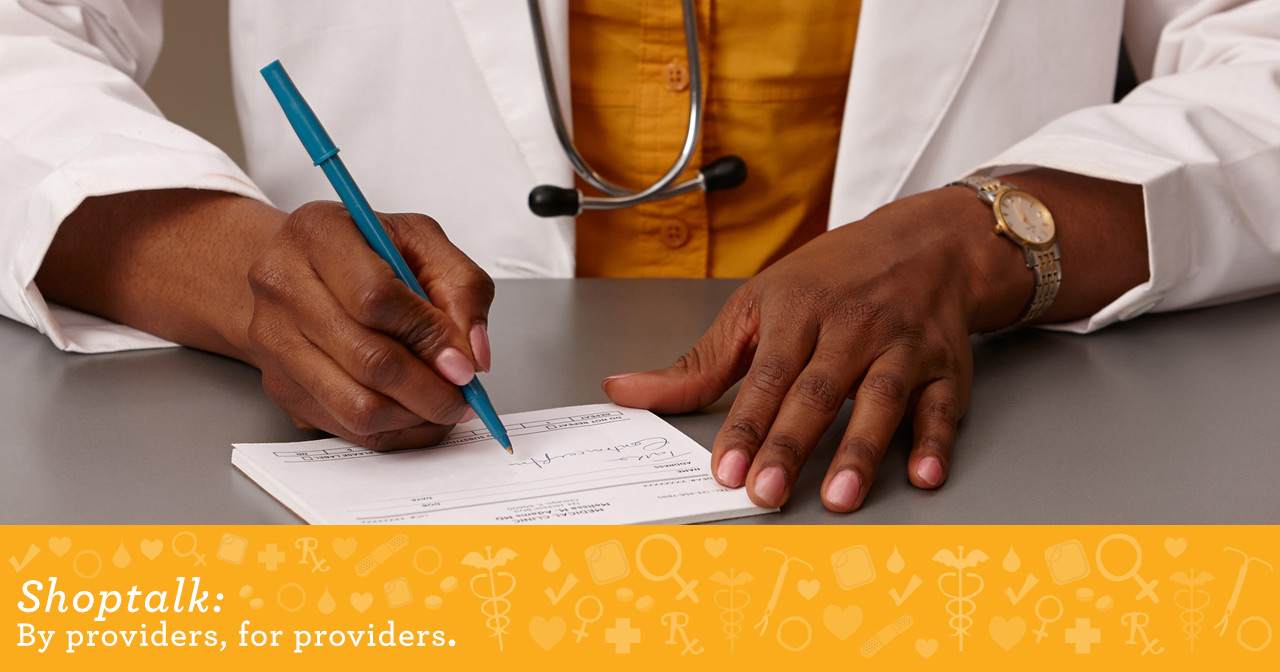 published 03/21/16
##TransHealthFail. These are brief anecdotes from trans folks describing bad health care interactions that were bumbling at best, discriminatory or hurtful at worst. Stories like these are part of what motivates me to do better as a health care provider.
Why we should care
We've known for a long time that lesbian, gay, bi, trans and queer (LGBTQ) people have health disparities compared to heterosexual and cis-gendered people. (Don't know all these terms? Check out this primer.) LGBTQ people in general and trans folks in particular are medically vulnerable, and bad interactions with providers make them less likely to access care, amplifying this vulnerability. Fearing a negative interaction with a provider, having to educate a provider on gender, or having been denied care in the past may understandably make someone postpone getting needed care.
Healthy People 2020 has made proposals to address health disparities for LGBTQ folks. For health care providers, two of these proposals are of particular interest:
Encourage regular use of care by learning how to appropriately inquire about and be supportive of patients' gender, sex, and orientation.

Increase culturally competent medical care by ensuring that trainees interact with LGBTQ patients.
Let's translate these goals into some practical tips for interacting with patients and improving clinic systems.
Interacting with LGBTQ patients
Ask rather than assume. You may make a mistake when trying to identify someone's sex, gender, or orientation. The last one is perhaps a feeling providers know – you may be able to recall a time when you made an incorrect assumption. How did you handle that? You may have been taken aback, or felt embarrassed, and (hopefully!) you apologized to your patient when they pointed out your error.
How might you have prevented this oversight? By asking. There are plenty of opportunities to ask. Perhaps your new patient paperwork asks patients to identify all of these things: sex at birth, gender identity, sexual orientation, and preferred pronouns. (More details on paperwork below.) If your records don't have a spot for this information, talk with your colleagues about how to address this. If you know someone whose clinic is doing a good job of this, ask to see their forms. A good goal is a system to collect this information once and share it with all the people involved in your patients' care. You shouldn't be asking at every single visit.
Use the information your patients give you. Don't collect it if you're not going to use it! You should be using patients' preferred names for every encounter, whether you're inviting someone to an exam room, starting a conversation, or booking a future appointment.
Don't assume sex/gender/identity are clinically relevant. When your typical cis-gendered patient comes in for cough or flu care, do you ask about their sex or gender? Nope. And you shouldn't ask LGBTQ patients presenting for this type of routine care either. Trust your patients to tell you if something about their sex/gender/identity is relevant to their current health care needs.
Making your clinic's systems work for trans patients
What are some ways you can let LGBTQ patients know that you are a welcoming place for them to access health care? Some things are easy and some things take more time to shift.
Update your new patient forms. Folks who identify as transgender or gender-variant often encounter barriers to care in the most basic place, like your new patient intake forms. Here are some ways to make these types of forms more inclusive:
Name. Many folks, cis and trans, have preferred names that differ from their legal names. Making this distinction on your paperwork can go a long way to making your patients feel more comfortable. Provide spaces for legal name and preferred name. Avoid using "nickname."

Sex. Provide multiple options: male, female, intersex, and a spot for patients to choose their own term. Also, make sure the form correctly identifies these terms as sex rather than gender.

Gender. You may also want to include gender as a separate category. Options here could be cis, trans MTF, trans FTM, agender, genderqueer and a write-in option.

Orientation. Options here could be heterosexual, bisexual, lesbian or gay, and a write-in.

Preferred pronouns. Options here could be she/her, he/him, and a write-in to let patients identify any other preferred terms.
Write-in options are key: there are way too many variations to cover them all with check boxes!
Update your electronic health records. This is the holy grail of accurately sharing a patient's name, sex, gender, orientation, and preferred pronoun information. Also make sure you can use your EHR to track preventive screenings like Pap tests and breast exams for patients who have the relevant tissue, regardless of their sex/gender labels. You'll need to work with your IT team to make these changes, and you may be able to model it on your improved intake forms. EHR companies are starting to get more of these requests, so they may offer out-of-the-box solutions for your clinic.
Improve your bathroom signage. If your bathrooms are intended for single-occupancy, an easy fix is to switch to gender-neutral signs. If you have multi-stall bathrooms, check out these creative suggestions.
Learn how to bill health care plans. Sometimes even getting basic or preventive care covered is a hassle for trans patients. Check with the relevant health plans about how to bill for services when they may or may not agree with a patient's birth sex listed on the plan. You should ask patients whether they have any confidentiality concerns regarding their explanation of benefits forms. If yes, you may be able to code in a way that helps patients maintain confidentiality while getting access to the care they need (e.g. "endocrine disorder NOS" instead of "gender dysphoria").
Educate your colleagues
People have a lot of questions and misconceptions about these issues, and it may take time and effort to bring about these changes in your clinic or practice. Here are some steps you can take:
Once you have become an amazing LGBTQ provider, you can list your practice at MyTransHealth and RadRemedy. When word spreads in the community that you are a compassionate and culturally competent provider, you will start seeing more LGBTQ patients—and contributing to the national goal of reducing LGBTQ health disparities.