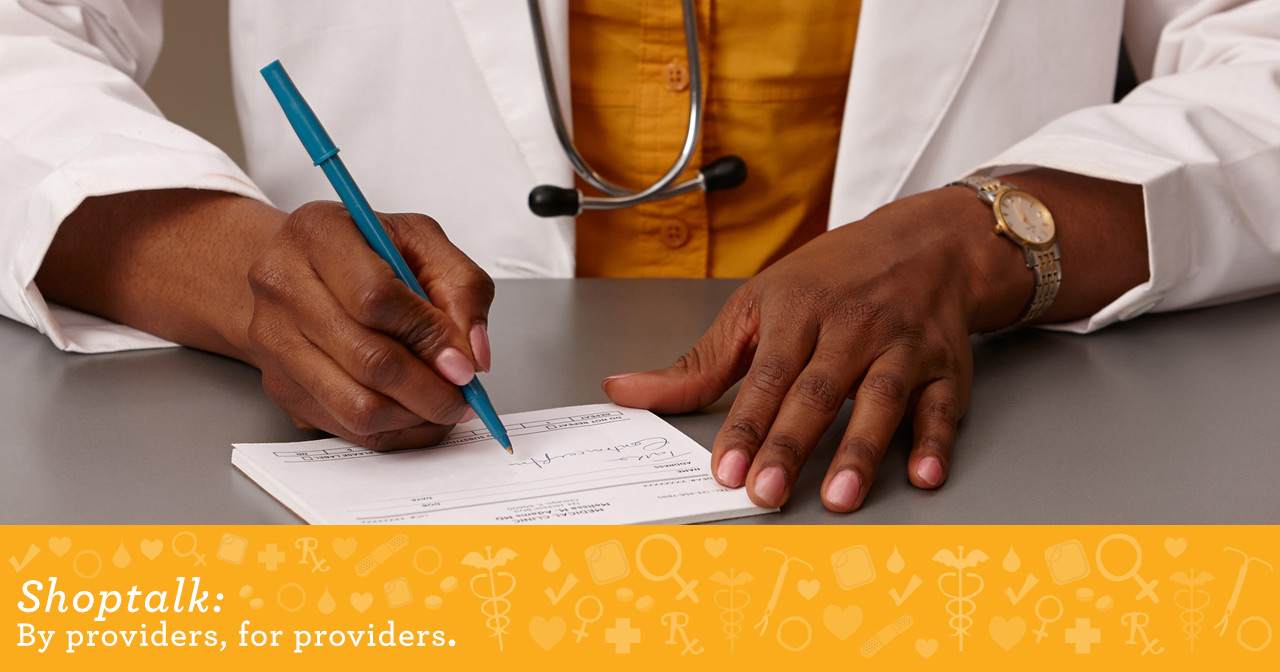 published 10/22/15
Miranda was a 27-year-old woman who came into my clinic to get checked for STIs. After addressing her symptoms, I asked her, "So what are you using to prevent a pregnancy?" "Condoms," she said. "Every time?" I asked her. "Whenever he remembers," she replied.
I asked Miranda if she had thought about other methods. She had tried the pill before, but didn't like taking hormones. The IUD scared her because she "didn't want something stuck inside" of her body. We were at an impasse, and I was feeling frustrated that I couldn't seem to structure the conversation in a way that would meet her needs.
Shared decision making is quality contraceptive care
Because I want to do better for patients like Miranda, I have started to change the way I approach these conversations. In our efforts to figure out which birth control method will work for women, we sometimes forget to take a step back and ground the conversation in our patients' feelings and intentions about pregnancy. Shared decision making is a concept that permeates medical care, from deciding about amniocentesis to cancer treatment. Understanding what our patients value helps us guide them to the right care, and that is just as true in contraception.
So now the conversation sounds more like this:
"How would you feel if you were to get pregnant in the near future?"
"Well, my boyfriend wants a baby, but I'm not sure."
"Tell me about that."
"I might be getting kicked out of my apartment, and I'm trying to finish a training program so I can get a better job."
"It sounds like now is not such a good time for a pregnancy."
"No, I guess not."
We talk about how her goals for her life can match up with her choice of contraception. With further discussion, she decides to try an implant.
Talking to women about their pregnancy intentions is an important part of responding to their requests for contraception. It is easier to get to a decision about the method that is right for them if we understand their level of desire for pregnancy and their concerns about side effects, ability to hide the method, how difficult it is to use, and how much it costs. All of these are part of high-quality contraceptive counseling detailed in the Quality Family Planning guidance published by the Centers for Disease Control and Prevention (CDC) and the U.S. Office of Population Affairs (OPA).
Providers should talk to all women about their pregnancy intentions
I think we can go even further. Screening women for their pregnancy intentions—even when they are not requesting contraception—is a promising prevention strategy.
Reducing the rate of unintended pregnancy is a national public health goal. Ensuring that women are using contraception that meets their needs should be the aim of every provider who cares for women. To meet these goals, providers need to be proactive about having the conversation. And not just once—we should routinely check in with women about how their pregnancy intentions are changing and whether their current method lines up with their intentions.
Tools for providers
One tool for pregnancy intention screening is called One Key Question®. Colleagues and I developed this approach at the Oregon Foundation for Reproductive Health, and it has garnered a great deal of attention for its ability to change the conversation. We asked women: "Would you like to become pregnant in the next year?" Based on her answers, we then asked follow up questions leading to either preconception care or contraception.
Another approach promoted by national contraception counseling expert Patty Cason, RN, MS, FNP, has three questions: "Would you like to have any (more) children? When do you think that might be? How important is it to you to prevent pregnancy until then?" This approach allows you to assess not only the need for contraception, but also whether she needs a highly effective method or would be fine with a less effective option.
Measuring our successes
Contraception is part of high-quality preventive care for women. In the future, I hope to see health care systems consider quality metrics that focus on pregnancy intention screening. When we start treating contraception as a preventive service and screening all women, men, and teens, then we will really change the conversation.