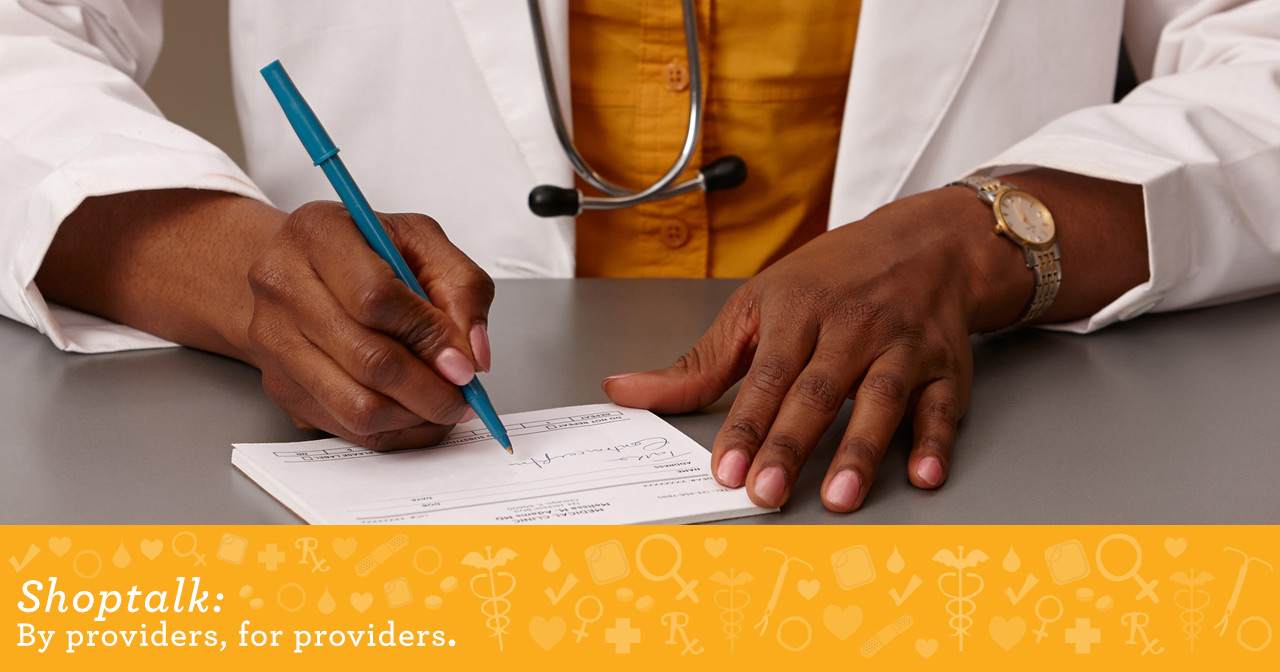 published 06/08/15
I have been working as a nurse practitioner since I was 25 years old and have received this question dozens, maybe even hundreds, of times. It still catches me off guard. Should I talk about my ParaGard? Would this be awkward? Coercive? A great chance for connection? Even tougher for me was how to answer during those years when I wasn't using a contraceptive.
Self-disclosure by providers is a controversial topic in all areas of medicine. In the field of reproductive health, in which it's common to discuss the most intimate of topics with our patients, self-disclosure is an especially important consideration. Studies by Evans and by Zapata suggest that, when appropriate, provider self-disclosure about contraception can be done without negative consequences. But how can we be certain that a situation is appropriate? And in circumstances when a clinician isn't using birth control (e.g., she is trying to conceive; she is infertile; or, like me, she has a female partner), how should she handle the situation?
What do the data tell us?
With this question in mind, Planned Parenthood colleagues and I undertook a survey last year to find out what contraceptive methods female family planning providers use. Based on previous research, we hypothesized that they would use IUDs and implants at higher rates than the general population.
This turned out to be true, but the difference was even more dramatic than we guessed. In our study, 40% of the 331 respondents currently using a contraceptive had an IUD and 2% had an implant. By comparison, according to estimates from the National Survey of Family Growth (NSFG) in 2011–2013, 11% of women aged 25–44 were using an IUC and less than 1% were using an implant. Family planning providers were also more likely to report using the vaginal ring and less likely to use female sterilization and condoms compared to women surveyed in the NSFG. Less than 1% of providers were using the patch, the shot, the diaphragm, sponge or spermicides.
Keeping the patient in the center of the conversation
We hope that these findings can be useful in situations when self-disclosure might not feel appropriate, but a provider would like to be able to say something about how providers use contraception overall. Ultimately, each woman is the expert in her own health, preferences, and needs, so these findings—like your own experiences—should be used to stimulate her own reflection and choice.
So next time you get that potentially thorny question—"What do you use for birth control?"—here are some ways you might be able to bring your patient back to her preferences:
We are all patients
Besides contraceptive counseling, I am hopeful that this research can have other benefits for reproductive health practice. After all, we providers are all patients, too—sexual people with our own personal needs and health concerns. Recognizing this and reflecting on our own unique experiences can help build empathy—perhaps the most critical element in high-quality care.
Please comment here or use your own social media to share your experiences with contraceptive decision-making—as a provider, as a user, or both. Also a word of acknowledgement: while this study was focused on female family planning providers, we know that non-female providers may also be asked about their and their partners' contraceptive experiences. If you have experiences to share, please do so in the comments.