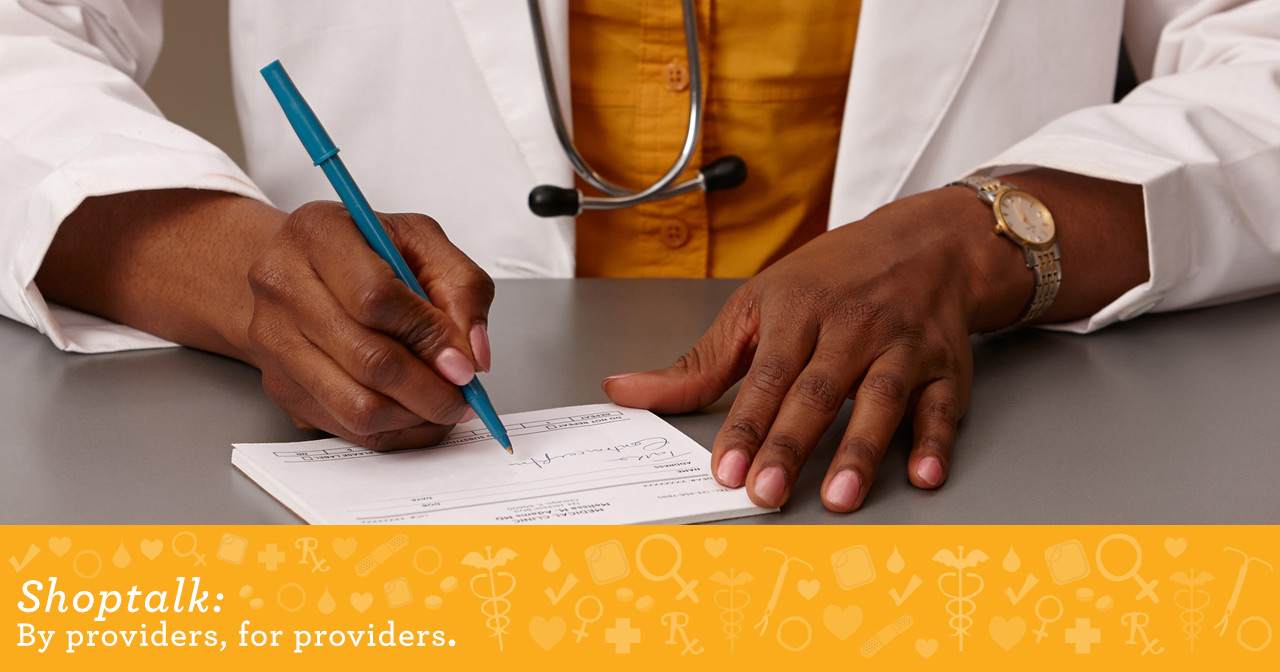 published 02/12/19
Many of you are likely already stocking and placing Liletta, the levonorgestrel intrauterine system (IUS, a.k.a. IUD) introduced in 2015. But you and your patients may still be trying to sort out how Liletta is different from—or very similar to—another IUD that's been out there for years, the Mirena. Here are the details.
How long does Liletta actually last?
As of late 2018, the official word from the FDA is that Liletta effectively prevents pregnancy for up to five years. But that's just a start. Liletta was designed to last seven years, and the study testing its effectiveness will be ongoing through 2020. To date, the study has shown that the pregnancy rate is very low (0.55%) for up to five years of use. Another study looking at the amount of levonorgestrel released by the IUS through five years of use suggests that it's on track for a seven-year lifespan.
So what can you tell your patients now? You can reassure them that if they reach the three or five-year mark (depending on the what information was available when it was placed) and want to keep their Liletta, the FDA will likely have approved a longer lifespan by that time. Check out this article to read more about talking to your patients about the updated FDA approval.
How easy is Liletta to place?
The early adopters out there may remember that the original Liletta inserter was a bit clunky—sort of a hybrid between other inserters we love or hate. The current inserter, now widely available, is remarkably similar to the inserters you're used to with other hormonal IUDs. Liletta's inserter even has numbers on it to remind you of the steps for placement. Although the slider is a bit stiff, the placement process will be very familiar to anyone who has placed a hormonal IUD in the past. It's also reloadable and easily learned by a new health care provider.
How should I counsel my patients about Mirena versus Liletta?
In terms of the patient experience of the device, the truth is that they are likely the same. Both are excellent at preventing pregnancy, and both are likely to cause noticeable decreases in menstrual bleeding or even complete cessation. The amount of levonorgestrel delivered is basically the same over the first five years, resulting in similar side effect and benefit profiles. Even the inserters and placement processes are now similar. From your patient's perspective, the biggest difference between the two may be the cost.
How much will my patient pay for a Liletta?
Cost is the only place where there may be a profound difference between the two devices. Liletta is the result of a unique partnership with women's health advocates, researchers, and a not-for-profit drug company to develop an affordable IUD. Throughout the process, Liletta's makers have been committed to ensuring the device is broadly accessible, even to those without health insurance and those with high deductibles. Their goal is that no one will ever have to pay more than $150 for a Liletta.
How do I get reimbursed for Liletta?
If your practice should be reimbursed by a third-party payer for a Liletta, there is a J-code specific to this IUD. For additional tips on reimbursement and coding, check out this comprehensive resource: Intrauterine Devices & Implants: a Guide to Reimbursement.
Overall, Liletta is a welcome option for patients interested in hormonal contraception. As a provider, I feel good about being able to offer patients who want an IUD an effective, safe, and affordable option—regardless of their health care coverage.