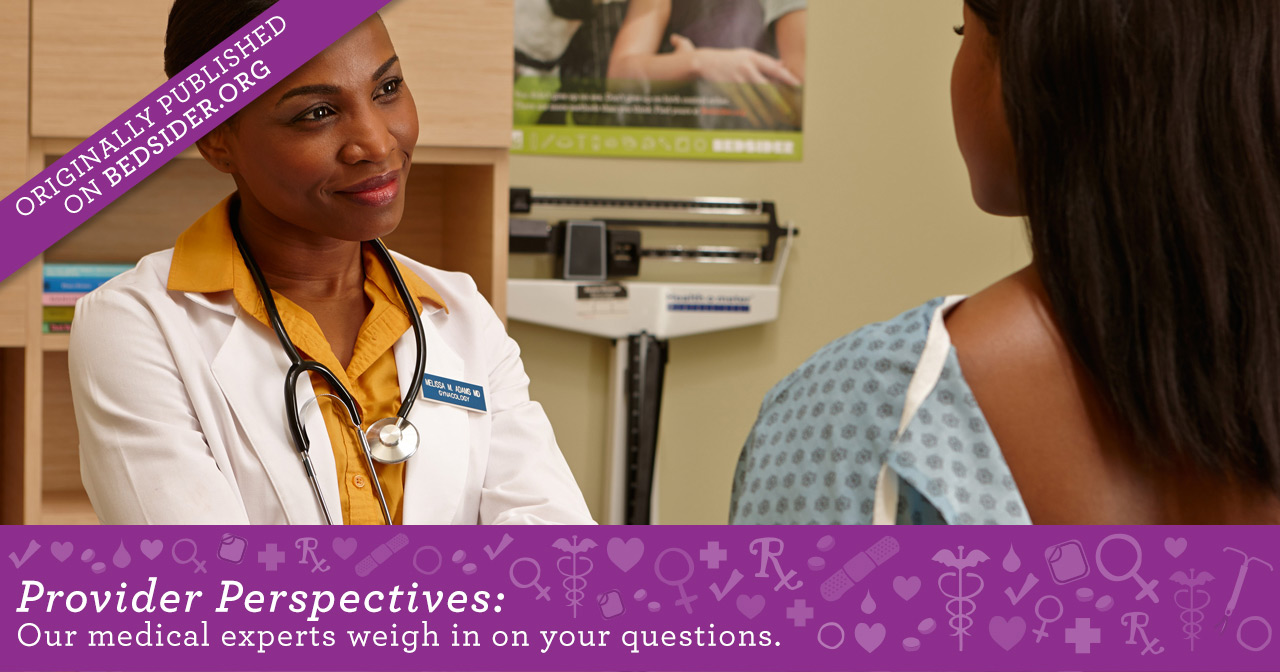 published 07/16/14
If you are one of the 1.1 million people in the U.S. living with HIV or AIDS, you might have heard that your choices of birth control are limited. The good news is that many methods—including some of the most effective ones—should still work well for you. What you can use depends on whether you are taking anti-retroviral medicine (a.k.a. ARVs) and what your overall health is like. So let's talk details.
I have HIV but I'm not on meds right now. What are my birth control options?
If you're not taking medications for HIV, the sky's the limit. You can use any method of birth control, including combined hormonal methods like the pill, the patch, the ring, or more effective methods like the shot, the implant, or the IUD. Just keep in mind that none of these methods prevent the transmission of HIV or other sexually transmitted infections (STIs), so it's important to use condoms too.
Why use condoms + another method of birth control?
If you're living with HIV or AIDS, using condoms every time you have sex can help protect you and your partner. Doubling up with condoms and another type of birth control is even better since:
Some birth control "side effects" may be a benefit for you. Some birth control methods can make your period lighter, less painful or go away altogether. Others offer long-term prevention of certain types of cancer.

Peace of mind that you won't have an accidental pregnancy feels good. If you're relying on condoms for birth control, they can slip or break. And planning for pregnancy can give you the ability to have a healthy pregnancy when you want one: less than 1% of pregnant women with HIV give the virus to their babies when taking a special set of medications.
I'm taking HIV medication. What birth control can I use?
The shot, implant, and IUD are effective regardless of what HIV medication you're on. Whether you can use other types of birth control depends on what type of medication you're taking.
Nucleoside Reverse Transcriptase Inhibitors (NRTIs). If you're taking a type of ARV called a "nucleoside reverse transcriptase inhibitor," like zidovudine or tenofovir, it's safe to use any type of birth control, including combined hormonal methods like the pill, the patch, or the ring. The scientific evidence shows that these meds and birth control don't mess with one another. Here's a list of NRTIs to see if you're taking one.
Non-nucleoside Reverse Transcriptase Inhibitors (NNTRIs). There's some limited evidence that "non-nucleoside reverse transcriptase inhibitors" like efavirenz or nevirapine may cause small changes in how the pill, patch, or ring is metabolized in your body, though they don't appear to decrease the effectiveness of these methods. Here's a list of NNTRIs to see if you're taking one.
Protease inhibitors. If you're taking a type of medication called a "protease inhibitor" like combinations of medications containing ritonavir, the medication may make the pill, patch, or ring less effective. Protease inhibitor meds may also mess with the progestin-only or mini pill.
There's also some evidence that the pill, patch or ring changes how a protease inhibitor with ritonavir is broken down by the body. These changes may make the medication more likely to cause minor problems with your liver or other side effects. Always talk with your doctor about using any of these HIV medications with the pill, patch, or ring. Here's a list of protease inhibitors.
HIV makes me more vulnerable to infections. Is it safe to use an IUD?
IUDs are the most effective reversible birth control we have, and they do not increase the risk of a pelvic infection. In fact, this is a great method to use to prevent an accidental pregnancy while getting your body healthy on medications.
If you have HIV and are healthy, you can use any kind of IUD.

If you have AIDS, we usually recommend that you wait until your infection is under control before starting to use an IUD.

If you already have an IUD in place and develop AIDS, it is safe for you to keep using it.
I've heard that using the shot may increase the risk of transmitting HIV. Is that true?
Health researchers all over the world are working hard to make sure we have the right answer to this important question. It's possible that there is an association between using the shot and increased risk of getting HIV, but more evidence is needed. Current guidelines from the World Health Organization say that it's safe for HIV positive people to use the shot, but that condoms should always be used to prevent HIV transmission. For more information just for women living with HIV, check out:
This article was updated on July 1, 2014.